*Due To High Demand, Limit 5 Per Order
*Due To High Demand, Limit 5 Per Order
Why You Need This
The World's First Phone Screen Enlarger!
Our 3D Phone Screen Enlarger magnifies the display screen on your smart phone, making it easier to watch videos, movies or news straight from your phone! ?
It's the perfect tool to relieve the discomfort and visual fatigue caused by focusing too long on such a small screen.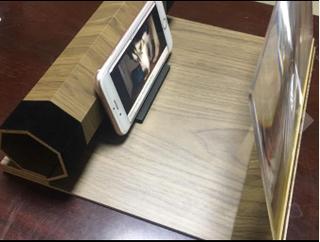 I like to watch movies, and I think the screen magnifier I bought is great. I use it to watch movies every night after turning off the lights! The base is solid wood, the quality is very good, the folding design is more cool, more importantly, the screen angle can be adjusted freely, I don't need to adapt to the screen!
I am an artist and so I needed something to zoom into my pictures without having to hold my phone. I take all kinds of pictures and then I paint them. This screen has made my life so much simpler instead of zooming in I just set my phone down and I can view the picture much bigger then on my small phone screen.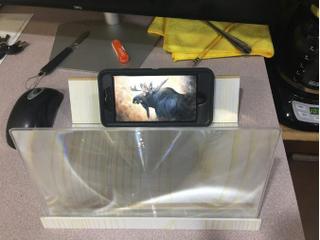 Shipping & Returns
Here at SUTMM our passion in life is to provide you our amazing customer with the coolest products on planet Earth!
Because of the viral nature of our products and how fast our stocks get bought up we are currently running a delivery window of 2-4 weeks from the date of order.
What should I expect when I order?
Within 30 minutes of completing your order and seeing your order confirmation page you will receive a receipt / order confirmation email from us.  If you don't see one in your inbox please check your spam folder.  It is hugely important to double check for typos on your email address and shipping address, as without accurate info we can't get you your orders!
Your order will be placed in processing for a period of 24 hours.  This temporary hold will allow for any changes or cancellations requested by our customers.
Within the following 48-72 hours (depending if you order on the weekend) you will receive a follow up email confirming your order's shipment.  In that email will be your tracking number and a link to be able to track the entire process of order packing to delivery on your doorstep.
All of our packages are delivered by our three trusted providers: USPS, DHL, and FedEx.
Outside of peak delivery times (Christmas holidays) we average a delivery time of 10 natural days.  However, things do happen, so please understand our expected delivery time is 2-4 weeks.
Why does it take so long to get my order?
To put it bluntly, we're not as big as Amazon and other eCommerce giants.  They use slave labor and other bully tactics to cut costs down to the bare minimum.  We don't do that and we surely don't have their order volume.  We are a family owned small business based right here in the good 'ole USA.
Please double check your shipping address is inputted correctly. If entered incorrectly, your order may not be delivered and the order will not be resent.
Unfortunately, NO changes or cancellations may be made to orders after the first 24 hours since order has been placed.  This is due to the overwhelming demand from our customers for the fastest possible shipping times.  Because of this demand our orders are processed as quickly as possible.
Please refer to our return/refund policy if you would like to return a portion of your order once received.
CinemaView - 3D Phone Screen Enlarger